As I always say, books are a great way to start difficult conversations with children. And what's more difficult to explain to kid that death? I remember my first encounter with loss, my uncle had passed and my family went to Delhi for his last rites. I did not know why we were going but I remember when I got there and I smiled at everyone, no one smiled back. That's when i knew something was wrong but I only understood the episode years later I think.
As adults we think we should keep your children from the unpleasant feelings but I think it's best to prepare them. Answer their questions as best as we can because it is even more difficult for them to cope with something they don't even understand.
So today, I have some picture book suggestions for you that deal with loss and grief:
The Heart and the Bottle
What happens when a little after losing her father, locks away her hurt so nothing and no one can hurt her again. This is such a poignant book, the kind that'll leave you with goosebumps. Oliver Jeffers is one of my favorite picture book makers because he has a way of saying a lot more than the words on the page and that's my favorite part about this book too, the story hidden in this book will win your heart.
Gone Grandmother
Nina's Nani is gone. Forever. But where? She keeps asking her mother questions but her mother doesn't know how to answer her questions. A sensitive story about how memories stay alive even when people fade away and how holding close these memories you can hold close the person.
Boo! When My sister Died
This is a story about a girl who loses her sister and life as she knows it changes. Noorie keeps yearning for her sister, keeps hoping she'll come back. A beautiful story about accepting loss and learning how to move past it.
Ida, Always
Gus and Ida are best friends and they live in a zoo. They are always there for each other, they are all either of them has. But then Ida falls sick and pretty soon Gus is left alone. The best part about this book is it takes you through Ida's sickness and all the feelings the two friends go through, the fears, the sadness. It teaches you to cherish every moment you have with the people you love, make sure every minute counts when your days are numbered.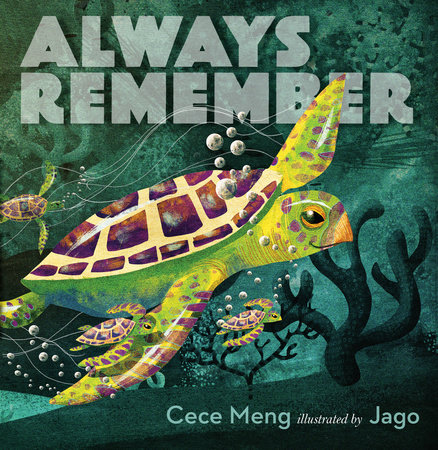 Always Remember
This one takes you diving in a reef. Old Turtle dies and all the sea animals fondly recall how he helped them, impacted their life at some point or another. It's a beautiful story about how even when you're gone, your deeds live on and they are your legacy, your imprint on the world. The illustrations in this book are breathtaking, it's like you're experiencing aquatic life first hand.
show